The most effective way to stop birds nesting under solar panels
Wild Things Pest Solutions are experts at pigeon proofing solar panels. Our Solar Guard bird proofing solution is the most effective way of bird proofing panels on any domestic or commercial property without hurting birds or damaging your panels.
Our quick and efficient all-in-one service means you don't have to worry about anything. We clean and sanitise the area, remove bird foul and nesting materials, and carefully attach our industry-leading guards — all while keeping your panels spotless and your warranty intact.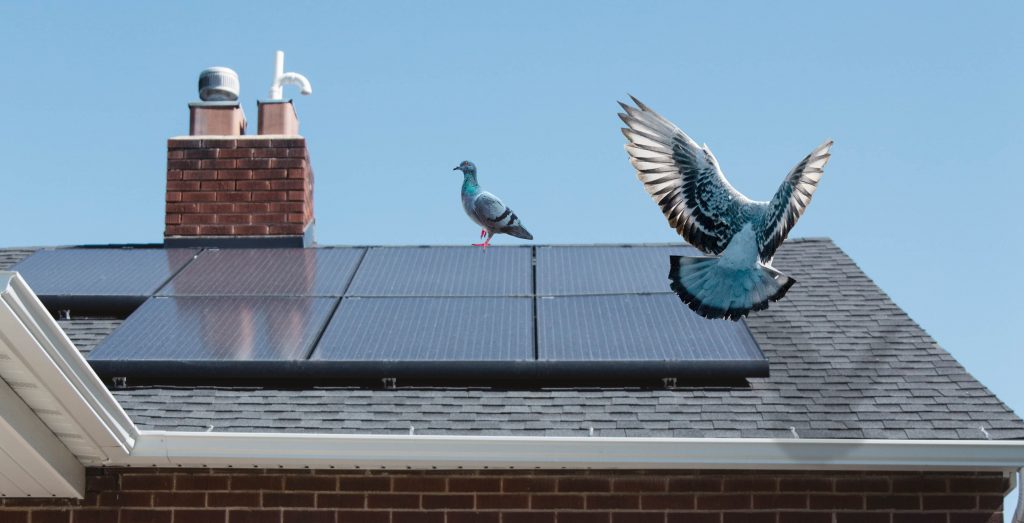 Why you need a pigeon guard for solar panels
Pigeons and other birds are a nightmare for solar panel owners everywhere. The area below your panels offers warmth and protection, making for a prime nesting place for birds. This can lead to a severe build up of faeces and damage to the wiring of your panels.
Excess fouling can cause inefficiencies with your panels, but it will also spoil the look of your roof and the surrounding area of your home or office, particularly if you have a garden or patio beneath your panels. Worse still, pigeons nest all year round, making pigeon proofing of some kind a necessity for all solar panel owners.
---
Solar Guard is the most effective way to stop birds nesting under solar panels
There are several ways you can stop pigeons and other birds from nesting under your solar panels. But the most effective by far is an adjustable spike that protects against all types of birds without damaging the panels themselves.
The Solar Guard spikes connect to the side of your panels with minimal fixings, meaning they won't void your warranty and or damage the face of your panels in any way.
Not only that, but a spike protection is the best way to prevent birds from nesting under your panels without causing harm to the birds themselves. This is a long-term solution that will protect your panels for many years to come.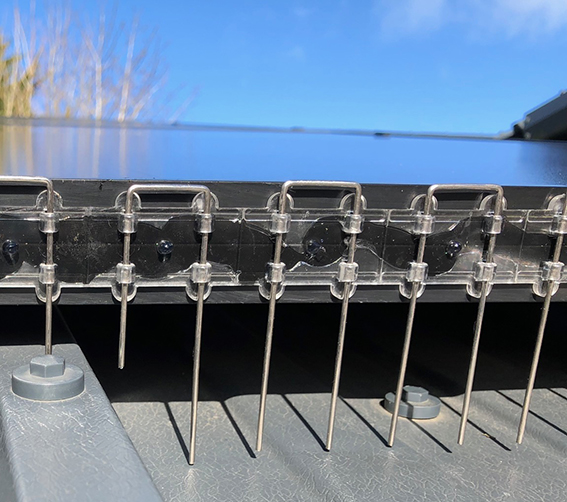 ---
Why choose Wild Things Pest Solutions to pigeon proof your solar panels?
There are many reasons our clients trust us to pigeon proof their solar panels.
We promise:
• Fast installation
• The best materials
• A foolproof solution
• No damage to your panels
• Your warranty left in tact
Request your free quote today or find out more about our panels and pigeon proofing service in the FAQs below.
---
Solar Guard FAQs
Why are pigeons attracted to my solar panels?
Solar panels offer pigeons shade and protection from the elements — making them excellent nesting spots.
Can pigeons damage my solar panels?
The odd pigeon landing on your solar panel won't cause much harm, but it's a different story if they start nesting underneath them. Constant bird activity can damage wiring, while bird droppings may severely diminish the effectiveness of the panels.
How do you pigeon proof solar panels?
A solar panel pigeon spike like Solar Guard is the best way to pigeon proof solar panels. As this method has minimal fixings, your warranty remains intact.
Will pigeon proofing my solar panels harm birds?
Absolutely not. The Solar Guard simply prevents birds from nesting beneath your panels. No harm is caused to them whatsoever.
Get A Free Quote Today
Give us a call today on 01245 491 327 or send us a message using our online contact form.